Featured Projects
Check out a few design system and UI prototype projects I've worked on recently, plus SpeechDatabase, a product I designed and built on the latest tech in early 2023.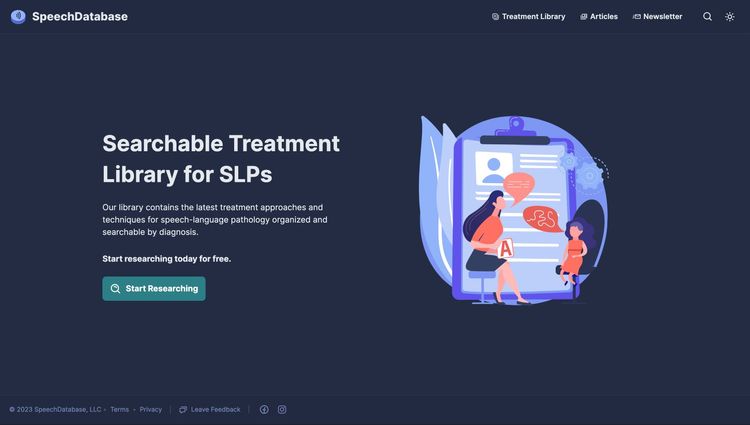 SpeechDatabase
Searchable treatment library for SLPs that allows practitioners to look up treatment approaches and targets for faster diagnosis and treatment formulation. Built on Nuxt + Strapi + GraphQL.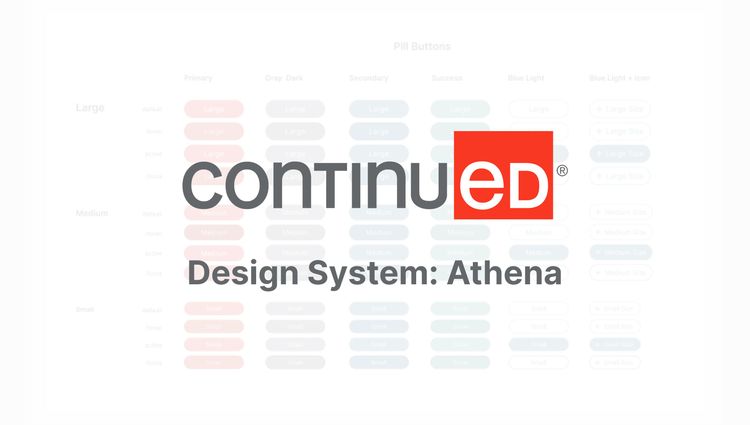 Design System: Athena
The Athena Design System was created to organize the UI styles for multiple brands under the Continued, LLC parent company and provide reusable frontend components to build a new experience for customers and course administrators.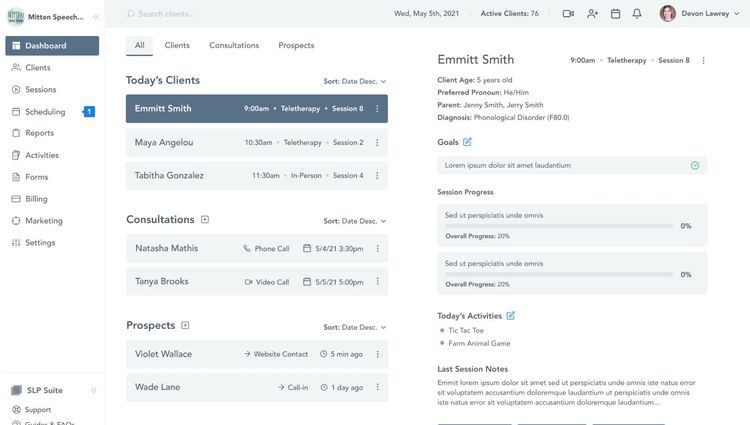 SLP Suite
SLP Suite is an SaaS platform designed for Speech-Language Pathologists to manage clients, plan sessions, and track client progress. Check out the Figma prototype to see it in action.
My Leadership Style
I strive to be a leader with empathy, expertise, and excitement. I fully realize that every person is different, with varying temperaments and skillsets, and that everyone is on their own path. This kind of diversity is what makes a strong, well-balanced team, and should be celebrated.
Create the map
Having a career plan is more than just moving up a ladder. I encourage everyone to build out their own career map with a clear path to success and revise as needed.
Provide the compass
Feedback is extremely important for success in all product areas. I build in regular, periodic methods for both constructive feedback and praise.
Guide if needed
I leave micromanaging at the door, but always leave the door open for career guidance, project discussion, or simply talking about life.
My Design Style
As users, we think apps should simply work without fuss. As a designer, I also believe in this principle—great design should go unnoticed. When everything works seamlessly, a user doesn't need to think about the process, it simply progresses naturally. Minimalist, usability-focused design and process, validated through solid research, has the ability to make an enormous impact on user satisfaction.
Research first
Performing generative research using tools like Sprig and Dovetail to inform user processes is essential to creating an exceptional user experience for any app or new feature.
Get feedback early and often
Getting alignment early on from team members, including other designers, PMs, and engineers, greatly increases team and project efficiency.
More than just designs
Beyond designs and prototypes, building in FE requirements, redlining, and design system needs can speed up project processes and add clarity to complex projects.
About Me
When I'm not in the office, you can find me searching for new, unique experiences throughout the world. I've traveled all around Southeast Asia and ran my team while living abroad in Costa Rica in 2019. I absolutely love the water, and I now live on the Lake Michigan coast in Spring Lake, MI with my girlfriend Devon and our two dogs, Maya and Ozzy.
My hobbies and interests:
Traveling
Cooking
Photography
Mountain Biking
Skiing
Live Music
Yoga & Meditation
Subsistence Farming
Writing
Finance